According to statistics, there's a decline in dental clinic visits in the 21st century as compared in the 20th century, with more children having regular dental appointments than adults. About 62 percent of dental expenditures come from middle-aged adults, with the aging population as the financial core of the dental industry for the next 25 years.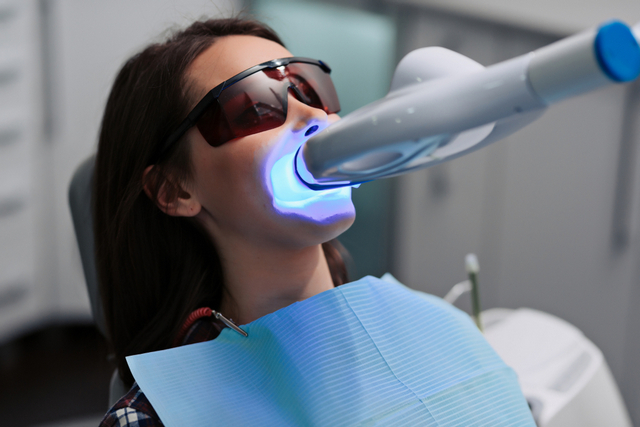 Because middle-aged adults tend to have teeth discoloration issues due to poor diet and lifestyle, dental health practitioners should offer teeth whitening services. Below are the benefits of offering chairside whitening to your patients. 
Offering Chairside Whitening Means More Regular Clients
Because professional teeth whitening or chairside whitening is performed at a dental clinic, offering such service will help you establish a solid customer base. Due to an unhealthy lifestyle, like smoking and poor dental hygiene, a lot of people have tooth discoloration problems. Many are tired of over-the-counter products because they seem to not be long-lasting and effective.
Teeth whitening is considered to be one of the topmost requested or in-demand cosmetic services, making it popular among the working population. Professional teeth whitening provides several benefits that over-the-counter products cannot match. This power bleaching teeth whitening treatment can help people achieve the whitest smile that the teeth can provide for improved aesthetic appearance, confidence, and a more beautiful smile.
Here are the findings of a survey about teeth whitening demand in the United States:
About 80 percent of Americans want white teeth.
About 85 percent of those who want their teeth whiter are women.
The majority of the survey respondents believe that a brighter and whiter smile can help boost self-esteem, most especially between 18 to 24 years old.
About $1.4 billion are being spent on over-the-counter teeth whitening products (American Academy of Cosmetic Dentistry report).
Increase Revenue by Offering Professional Teeth Whitening
By 2024, teeth whitening is expected to soar high and become a multi-billion dollar industry. However, over-the-counter teeth whitening products are conquering chairside whitening. The risks of using these commercially available teeth whitening products can be alarming. That's why, as a dentist, you should advise your patients about the dangers of DIY or in-home teeth whitening treatment.
By doing so, you'll not only save your patients from unwanted side effects of over-the-counter teeth whitening products but also increases the frequency of clients visiting your dental clinic to seek chairside whitening treatment. It means more revenue for you.
Here are some tips when explaining the differences between over-the-counter and professional teeth whitening treatments to your patients to encourage them to avail chairside whitening:
The American Dental Association considers teeth-whitening products as generally safe. Just make sure that your client follows the manufacturer's instructions.
Teeth whitening should always be done under a dentist's supervision.
With improper use, teeth whitening strips can cause mild gum irritation and increased tooth sensitivity that can be quite painful and last for a couple of days.
If the gums are inflamed or bleeding due to gum disease, the whitening agent enters the cavity-causing pain and further aggravating the gum inflammation.
Patient Education Increases Your Trust Rating
As a professional dentist, you want not only to get more clients, but also to showcase your expertise. Patient education is a great way to increase your traffic and at the same time, improve your reputation and trust rating. While there are many highly skilled and knowledgeable dentists today, only a few provide comprehensive patient education.
Don't miss this important aspect of your profession as a dentist. Of course, you want more clients coming in but not to the point of letting them do whatever they want with their teeth after the treatment. Ensure that they get proper education on the possible consequences of not practicing proper dental hygiene.
Here are some helpful pieces of advice you can share with your clients to help increase their trust and confidence in your chairside teeth whitening and other dental services:
Professional whitening can help mitigate the risks from improper use of teeth whitening products.
Irregular brushing, neglected teeth, or not following an annual dental exam makes whitening procedures useless.
People who took too much fluoride when they were still young or those who take antibiotic tetracycline tend to have internal stains or gray teeth, which are impossible to remove with over-the-counter teeth whitening products alone.
Good Marketing Strategy
Be a client advocate, and your clients will surely spread the word. Offering chairside teeth whitening service and incorporating it in your patient education would help you promote your dental services to a broader audience.
Make professional teeth whitening as a more convenient option for on-the-go people by offering flexible sessions or dental appointments. Also, providing flexible payment terms is a good idea to encourage more people to seek this treatment.
Here are the selling points of chairside teeth whitening:
The whitening results are far obvious and satisfying than over-the-counter teeth whitening products.
The whitening results are longer-lasting.
Patients can fully trust their expertise.
Your teeth whitening techniques are proven and tested.
There are many professional teeth whitening options available that your clients can choose from, such as laser teeth whitening.
Help People Smile with Confidence
Many people smile with their mouths closed because of stained or yellowed teeth. It can lead to low self-esteem and wrong perception of being unfriendly. These people are restricted in doing what they want to do, such as public speaking or even merely socializing with others. They tend to perform poorly in school, job interviews, or at work.
Keeping your dental clinic open for these types of patients will help them smile again with confidence. Be there as the teeth whitening expert. Abreast yourself with the right knowledge and skills about professional teeth whitening products and methods used. In that way, you can apply the latest trends in teeth whitening that will make many people's lives happier and easier.
Conclusion
It's somehow challenging to balance pursuing your passion and commitment to help people achieve a whiter smile and generating more revenue for your dental business. Offering chairside whitening is a good way to keep a balance between the two because you become a client advocate by providing patient education and generating more income at the same time. Teeth whitening is becoming more and more in demand, so offering this service will help you achieve your business and professional goals.