Find a purpose for the job which is achievable in medium term, and sincerely believe in it. Such a purpose will give you necessary passion, fire, and commitment towards the job, and using the job as a tool
, you will be able to achieve the purpose. Otherwise, if you work simply for monthly salary to meet your routine expenses, without any purpose in life, then you will have nothing to drive you towards excellence. For example, the purpose can be buying your own flat within the next five years time. This will help to do well in the job, earn lot of incentives month after month, thus can save good amount towards achievement of the purpose. Another example can be to get your sister married off, which should drive you to do well in the job, earn lot of incentives regularly to meet the expenses for the marriage.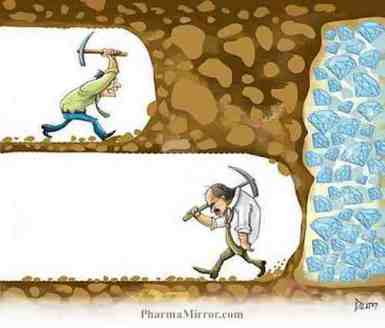 Learning curve
Always be in the 'learning curve'.  It means that always aim to achieve a little more, than what best you have already achieved.  For example, if your previous best is Rs.3 lakhs sales in a month, then the aim can be  to do at least Rs.3.25 lakhs in the coming month, then Rs.3.50 lakhs in the second month, etc. This will help you to stretch yourself every time and you will touch greater heights every month.  If you don't do that, then you get trapped in the 'comfort zone' and you will be overtaken easily by those who are in the learning curve at all times.
A few examples as to how you can put yourselves in the 'learning curve':
1) Protect all existing prescribers, and then try to improve the contribution from each one, i.e. add more volume from each customer every month.
2) Identify 4-5 non prescribers who don't have any serious objections for your products/Company, for new conversion every month, and your plans for the same.
3) By doing the above consistently every month, the product-wise, overall sales, and also the prescriber base keeps on increasing every month.
4) If your detailing is not that great for a few products, then that can be put in to your learning curve, you can do lot of practice till you become an expert in the detailing of those products. This will help you to improve your communication/ detailing, sales of those products, and also improve your over all incentive earnings.
Be different
Trying to be different in as many ways as possible will help.  A few examples below:
i) Proper dressing – Properly fitting, formal wear, with a tie, well polished shoes, belt, and bag.
ii) Warm handshake expressing warmth and confidence to the customers
iii) Hygiene – shaving every day, taking bath every day, brushing teeth many times in a day, trimming the hair, moustache/beard, cutting nails, avoiding bad habits like smoking, chewing pans, tobacco, alcoholic drinks, changing the socks, inner wear daily, using a deodorant/ perfume,  etc.
iv) Wearing a smile always
v) Be thorough with the Product Knowledge, detailing stories for each product, having the right number of doctors in the coverage list as per speciality wise break up for each product, promoting right products to right doctors after doing RCPA properly, booking of POBs every day, sending all reports on time without any delay /reminder, earning incentives every month, and aspiring to shoulder more important responsibilities and grow fast in career, etc.
Perseverance
Success is not easy to achieve and always not at a straight line. If it is so easy, then everyone would have become highly successful! You could ask successful people in life, they might tell you that so many hurdles they might have crossed, to become successful. Therefore as long as you are on the right track, whenever you face difficulties, please don't give up hope, and keep doing the good work. I remember a good old story, when a gentleman digs about 10 feet deep in the ground in the hope of finding a gold treasure. He lacks perseverance, give up, and leave.  Another gentleman continues to digging, and after another two feet, he finds huge hidden gold deposits! Champions are not extra-ordinary people, they just don't give up!
Though all Field Force are aware of all these basics, it is true that most of the time; they don't take them that seriously. If they sincerely follow all the above, they will be better organized, disciplined, and the doctors will see them differently when compared to the average/ mediocre field force from other Companies, leading to better results for the Field Force as well as to the Organizations. Such field force will be respected in the Industry, by the customers, colleagues, friends and families; they earn lot of incentives, and grow in their career fast. The Organizations, Trainers, and Line Managers should try to inculcate the above discussed habits in their Field Force, at all times.
Author Bio
The author Mr.
V. Srinivasan
has a rich experience of over 30 years in Pharma Industry having handled Sales Administration, HR & Training functions, with over 400 published articles to his credit, in India and abroad. He is a regular senior author of Pharma Mirror Magazine.
Important
[All of the information provided in this article is of authors, does not necessarily represent the official views or policies of the Pharma Mirror Magazine.]
. You are invited to write for Pharma Mirror Magazine.
Enjoy